Country Boys Go to the Big City
If you have ever lived in the countryside, then you know just taking a trip into the city can be a very dangerous yet exciting affair. Most countries are similar in that big city living is much different than being in the countryside. It is also similar in most countries in terms of the personalities of people in the big city and in the country. 
People in the country are simple, more down-to-earth, and more hands-on. These are people with experience doing things with their hands. With
that in mind, you understand how big it is for someone from a small town to go to a big city with millions of people. The small town that Craig came from only had about 100 people. It is small even in terms of what size a town is supposed to be. 
This particular time we decided we would take a long 3-hour drive from the hills of St Elizabeth to the city of Kingston. However, it should be noted that three hours is on the optimistic side for a trip to Kingston. This was before Jamaica had a functional highway infrastructure in the form of Highway 2000 and other connecting roads that would be able to get us from St. Elizabeth to Kingston. 
It meant traveling around 200 km through backroads with only a single lane. It also meant driving through the major cities and all the traffic that comes with that. Going through the different parishes would mean lots of time spent sitting in traffic. That is why it is rare that people in rural Jamaica make their way to Kingston. If someone wants to go to a big city, they usually go to Montego Bay.
Setting Off to Kingston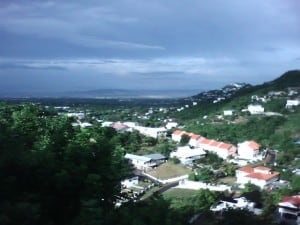 So, they set off early in the morning at about 5 am, with Craig and his family hiring a taxi going from the country to the great city of Kingston. Though known for its high crime rate and poor living conditions, Kingston can be a very vibrant and beautiful place to visit, and that is why the family decided to go. Also, Craig's father had his sister there, and he could visit her. 
Despite its poor reputation, Kingston has a few nice places for tourists to visit. The Bob Marley Museum is located on Hope Road, and it is a great place if you are looking for an exciting history lesson. You will be in for a treat if you love Jamaican Patwa and Reggae music. 
There are also numerous great restaurants that will allow you to take in the cuisine of the country. You will be able to see some of the most interesting and exciting places in the country's history. 
Now, Jamaica is a land of contrast, and anyone who has not taken a trip like this across Jamaica needs to do so immediately. Craig had never seen such wonderful scenery. The first part of the trip involved going through Santa Cruz, which was an amazing city with stalls selling groceries and many fruit stands. After that, there is spur tree hill which is a road that literally wraps around a mountain until you are at the top. Imagine going up a mountain and then looking back on the city from where you came. 
This is what Craig saw, and he enjoyed every bit of it. He had read in the Jamaican Gleaner once before that talked about Spur Tree Hill and how it was built. This part of St. Elizabeth and Manchester are historical places that would make a great trip across Jamaica complete. If you are driving in the situation, you won't find many places quite like it in the world.
 After that, they had to go through Clarendon, as after Spur Tree Hill in Manchester, they found nothing else that they enjoyed there. Clarendon, however, was a different story, as it had many hills and gullies, and driving looking at the city below was amazing. The good thing is that bypassing the city saved a lot of time, making the trip to Kingston much better.
After Clarendon, they came to Spanish Town, St Catherine. This is one of
the more amazing cities in Jamaica due to the sentimental value that comes from how old it is. It was an old Spanish colonial town that was taken over upon the capture of Jamaica by the British. Because of this, it has many old buildings and a Spanish look and feel to it that has British and African details added.
 Now they reached Kingston and went up to the hills of Kingston, where the view was amazing. Kingston is a very difficult place to talk about because it has such contrast. In the hills, you can find wealthy domiciles that would not look out of place in some of the most expensive ZIP Codes in America. These houses are big, luxurious, and stylish. However, the inner city of Kingston still offers a dark side that many people don't like to talk about. That is why you must be careful and take serious precautions if you decide to go there.
Here are some tips that are simple enough for you to remember. While there might seem obvious, not everyone thinks about them before going on a trip to Kingston. These tips can help you maximize the value you get from your trip. 
    Kingston Travel Tips
Never go to places known to be dangerous, as it could mean your life.

Stay in tourist areas.

Do not give money to strangers or buy things from people you don't find trustworthy.

Do not go anywhere by yourself.     

The best thing you can do is to find a local to give you a tour. Find someone who is well known and has a good reputation so that you won't run into any problems.